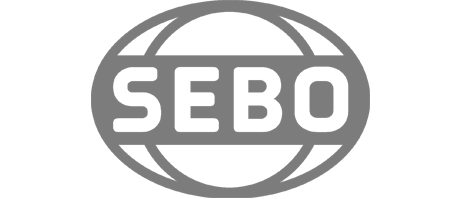 The SEBO Felix Rosso is an upright, lightweight, German engineered vacuum. The SEBO Felix Rosso vacuum cleaner comes installed with interchangeable heads to cover every surface, from tile to carpet to laminate and wood floors! The ET-1 Powerbrush cleans deep without damaging or scuffing surfaces. The swivel neck  of the SEBO Felix Rosso allows for cleaning in hard to reach places without having to rearrange your entire space. With multiple aggression settings, the Felix Rosso can adjust for a deeper clean, or a gentler clean. The SEBO Felix vacuum cleaner can rotate from 90° vertical and 180° horizontally with a less than six inches in height. You don't have to work in a grid system any longer! You can get under those hard to reach places, like your bed, under the couch, or under a coffee table with ease!
The Felix Rosso is durable, light weight and comfortable with any attachments used while cleaning. You can switch hands with ease, as the Felix Rosso isn't clunky and hard to handle. You can adjust the height of the Felix Rosso with the touch of an easily accessible latch! This makes it easy to extend the length of your reach for hard to reach areas, or shorten it for tight spaces.
With the easily adjusted height of the ET1 power brush, you can choose a level of clean that's perfect for your floors. After all, carpet and wood shouldn't be cleaned the same way! The ET1 power head power cleans carpeting, while acting more gentle on tile, wood, or laminate. The brush roller can be easily controlled with the touch of a button. You can also easily remove the brush or clean it with the simple touch of a button located at the head of the vacuum cleaner. You can quickly and effectively clear out clogs in the brush by opening the easy access door. If there are any issues with the brush, the system will alert you.
The bristles of the parquet brush provide efficient edge cleaning and reach those crevices in your tiles. The parquet brush is easily adjustable, and easily removable for cleaning.  The parquet brush allows for a deep powerful clean, while also being easily maneuverable and rotatable for all those tight spaces and corners that are normally hard to reach. The Felix Rosso conforms to most angles and positions, even completely flat to the floor at a 180° angle.
The S-Class filtration system of the Felix Rosso vacuum: The S-class eliminates 99.9% of dust and dirt particles and does not release them back into the air. The exhaust filter keeps all harmful particles locked in tight into the system, and absorbs all motor noise, making the Felix Rosso practically whisper quiet when operating. The Felix Rosso model, with its hospital quality filtration system, is perfect for pet owners, allergy sufferers, those with asthma or other breathing difficulties.
The hose handle of the Felix Rosso is read in a pinch to clean hard to reach corners, and other pesky crevices. This device comes with a crevice nozzle and upholstery nozzle to clean your furniture or even curtains gently and efficiently. The Felix Rosso truly can do it all!
• Electronic variable power control
• S-Class, 3-step filtration
• Telescopic handle
• Turning swivel neck
• 12-inch power brush
• Hose handle
AZ Vacuums is a premier SEBO Dealer. We can help you with any questions you may have about the product including product overview, how to use it, its filtration properties and health benefits.
If you have any questions about SEBO or any of our other products please do not hesitate to give us a call or stop on by our store!