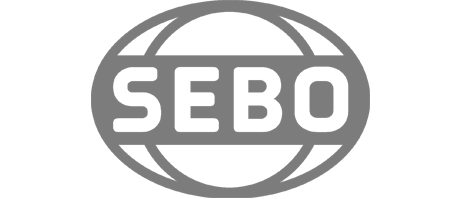 The D4 model canister vacuum cleaner is virtually whisper quiet and comes with with 3 built in attachments: a 1.5 gallon bag, a 40-ft cord with a 52 ft cleaning radius, rubber coated wheels, a quick release tube, and a full bag/ clog indicator.
The D4 filtration system is unmatched, keeping dust and harmful particles from resurfacing back into the air. The LED indicator monitors suction for the perfect clean on all of your surfaces. The suction hose comes with a 320° rotating canister that will increase airflow, and reduces the amount of clogs. The rubber coated wheels and bumper prevent the D4 vacuum from scuffing or damaging floors, walls, and furniture, should you bump into them while cleaning.
The D4 canister vacuum comes with a high quality ET-1 power head that efficiently cleans carpet, tile, laminate and wood floors without causing damage. The D4 is perfect for eliminating pet hair, comes with a brush roller that can be manually turned on and off, and it's signature L-shape makes cleaning corners and tough spots a breeze! The D4 also includes a parquet brush for stronger suction!
The ET-1 powerhead has a 3.5 inch horizontal face and can be automatically shut off. It can also be easily removed without requiring additional tools. The D4's suction can be manually adjusted on the vacuum's handle, making your cleaning adjustments easy at the touch of a button. The D4 powerhead comes with a 180° steering ability, making it easy to maneuver around your living space and clean every inch of your floors!
This canister vacuum is perfect for pet owners, families, allergy sufferers, and those with breathing difficulties such as asthma. The D4 sufficently cleans all your floor surfaces without creating damages to your floor , furniture or walls. Easy to use, easy to adjust or fix should repairs or emptying be needed! This model comes in three colors: white, red and black. SEBO is a brand you can trust!
• Canister Cleaner
• 3 On-Board Attachments
• LED Indicator
• 320° Rotating Canister
• ET-1 Power Head Cleaner
• 3.5 Inch Cleaning Head
AZ Vacuums is a premier SEBO dealer. We can help you with any questions you may have about the product including product overview, how to use it, its filtration properties and health benefits.
If you have any questions about SEBO or any of our other products please do not hesitate to give us a call or stop on by our store!