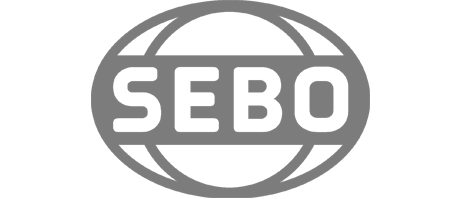 The SEBO E1 canister vacuum is a powerful cleaner, whisper quiet, lightweight, model with German engineered design that provides easy to reach clean, easy use and high quality, S-Class hospital-grade filtration. The SEBO E1 provides powerful suction, ensuring that you pick up every little bit of dirt, dust and pollutants. The E1 comes with a 37 ft cleaning radius, a large filter bag, three connected attachments, rubber-coated wheels, and a quick release tube. The SEBO E1 comes with a full bag or clog indicator, a easily controlled cord rewinder, and a foam bumper that prevents damage against furniture and walls.
The SEBO E1 comes with two brush heads to provides the perfect clean for soft and hard floors. This canister vacuum comes with a combination nozzle AND retractable bristles, it also comes standard with a parquet brush for a more intense, thorough clean on hard floors. The E1 is perfect for removing pet hair, and is family friendly as well as hospital grade safe.The suction head, being small, but mighty, makes it easy to clean corners and under furniture and other hard to reach spots. The suction can be adjusted with a switch on the handle, and can steer up to 180°, making it easy to maneuver. 
SEBO is as always, a brand you can trust, and the E1 model is the perfect choice for families, allergy sufferers, pet owners, and those with breathing deficiencies. The SEBO E1 is efficient and courteous of all your surfaces, giving you an amazing clean every time!
• S-Class Hospital Grade Filtration
• Powerful Suction
• Protected Wheels and Bumper
• Full Bag/Clog Indicator
• Choice of Cleaning Heads
• Uses HEPA and carbon filters to filter out ultrafine particles
AZ Vacuums is a premier SEBO dealer. We can help you with any questions you may have about the product including product overview, how to use it, its filtration properties and health benefits.
If you have any questions about SEBO or any of our other products please do not hesitate to give us a call or stop on by our store!