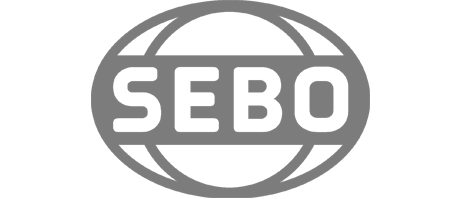 Made in Germany, the AIRBELT K series offer the best lightweight, mid-size, commercial-grade canister vacuum cleaners on the market today! 

Both AIRBELT K models are powerful, ultra-quiet and will provide years of reliable use! They feature clever storage of three on-board attachments, a five-year parts and labor warranty, a full bag or clog indicator, a big .8-gallon bag, a 25-foot cord and 37-foot cleaning radius, rubber-coated wheels to protect floor surfaces, and a durable telescopic tube with quick-release connections. The soft AIRBELT bumper that surrounds the canister housing protects the vacuum, furniture and walls from incurring scuffs and scratches during use. Users will also enjoy effortless control of cleaning heads that have 180° steering abilities and super low 3.5-inch horizontal cleaning profiles that easily fit under beds and furniture.
SEBO is as always, a brand you can trust, and the K2 model is the perfect choice for families, allergy sufferers, pet owners, and those with breathing deficiencies. The SEBO K2 is efficient and courteous of all your surfaces, giving you an amazing clean every time!
• S-Class Hospital Grade Filtration
• Powerful Suction
• Protected Wheels and Bumper
• Full Bag/Clog Indicator
• Choice of Cleaning Heads
• Uses HEPA and carbon filters to filter out ultrafine particles
AZ Vacuums is a premier SEBO dealer. We can help you with any questions you may have about the product including product overview, how to use it, its filtration properties and health benefits.
If you have any questions about SEBO or any of our other products please do not hesitate to give us a call or stop on by our store!