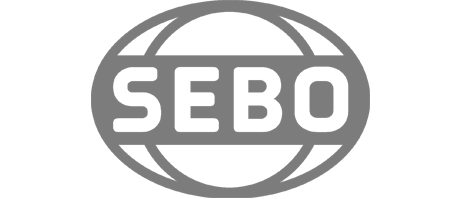 The Sebo Automatic X7  is an upright vacuum cleaner with an S-Class filtration system. The X7 model is computer controlled from the inside of the machine, making it more high tech than your average vacuum cleaner. The Sebo X7 can handle harder jobs on rougher surfaces or standard cleaning jobs like household dirt and dust in your carpet. With the Sebo X7 you get a deep, high quality clean on all your floors without damaging them. The X7 can handle carpet, tile, laminate, and wood floors!
The Sebo Automatic X7 is completely user friendly! The Computer Control System monitors the vacuum's quality and fullness, alerting the user of any maintenance needs or emptying. The Sebo X7 can automatically sense pressure against the brush roll, and adjust the height depending on the surface you are cleaning! The Sebo X7 is also perfect for easy storage!
The Sebo X7 is manufactured with high quality German engineering. The X7 comes with rubber coating around the wheels and front bumper to protect your floors and walls or anything else you may bump into. The X7 puts your mind at ease knowing your won't be scuffing or scratching your furniture or floors. Choose between the default brush mode and the higher agitation brush mode for moire resistance and a deeper clean. The Sebo X7 adjusts its height automatically in either mode. The X7 comes automatic adjustment, so you won't be spending too much time going over the instructions just to clean your floors. The X7 comes available in red, blue or white.
The Sebo Automatic X7 comes with built in accessories to make your cleaning job even easier! With the crevice tool the X7 can get dirt and debris out of hard to reach crevices and spaces. This prevents the user from having to rearrange their whole living space just to get to one hard to reach spot. The upholstery nozzle allows for gentle cleaning on items such as chairs or couches or any other delicate items that need cleaning. The X7 provides a deep clean without ruining or damaging your upholstery!
The Sebo Automatic X7 comes equipped with an S-Class filtration system that keeps allergens and particles from entering the air again after they've been vacuumed. With the Sebo X7, you won't be recycling dust and debris back into the air, only clean fresh air from this filter! The Sebo uses a multi-layer filter bag that traps twice as much dirt and debris as an average filter bag.

This German engineered filtration system is perfect for any home but especially for families with young children, pet owners, the elderly, and allergy sufferers. You can forget any fear of re- exposing yourself or your family to nasty dirt and debris when vacuuming or emptying the bag. The Sebo X7's high quality filtration system is built to keep those nasty particles in the bag at all times. There's really no denying that the Sebo X7 is the perfect upright vacuum cleaner for any and every household!
• High Quality German Engineering
• Rubber Wheels and Bumpers
• S-Class Filtration System
• Automatic Brush Adjustment
• Two Agitation Settings
• Upholstery Nozzle
AZ Vacuums is a premier SEBO dealer. We can help you with any questions you may have about the product including product overview, how to use it, its filtration properties and health benefits.
If you have any questions about SEBO or any of our other products please do not hesitate to give us a call or stop on by our store!